No really... my brother and cousins built this huge sandcastle... A few of us buried one of our cousins in the sand (and I gave her sand boobs) :P And I made a "sand" angel. You'd think I'd never seen sand before. (But really, I grew up there.) :)
Aaaaanyway...
Here's the quick mani that I did just hours before getting on the plane. I had a MUCH more interesting mani planned but was pretty swamped with school until right up to departure (and then some) and the interesting mani needed more TLC than I had time for. I started it... it just wasn't working as planned so I resorted to this. Having decals on hand is an easy way to ensure a decent mani in a pinch.
My hand looks really odd in this pic though... The heat makes me puffy! :P
Base: China Glaze - Trousseau
Tip: China Glaze - Sexy In The City
Art: Fing'rs 3D Nail Art (2340)
Top coat: Sally Hansen w/ Nylon in Nude (no. 95)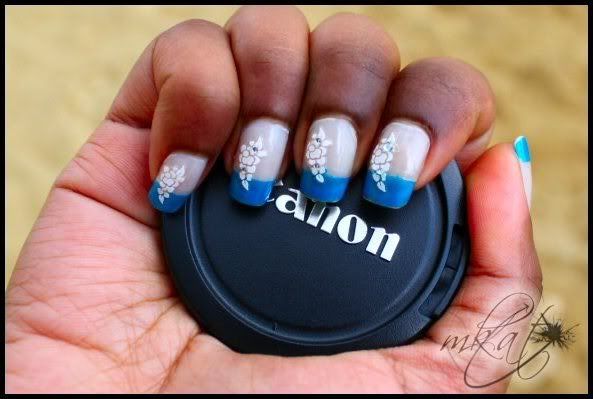 - mKat
What I'm wearing: Nothing...nails are bare, but buffed and shiny!
What I'm lemming: Sigma Makeup's retractable kabuki brush (Breakfast with Audrey)
What I'm waiting on: GymBoss digital interval timer (to help with gym and writing activity!) :P
Can't wait to play with: Our new camera lens! (75-300mm)... woo!